Help Center
Topic: Responses
---
Tagging survey responses
Help Center
Responses
•
Last updated: 16 February, 2022
In some cases you may want to tag responses, so you could later differentiate the results (e.g. between different dates, instructors, events, cities, classes, etc.)
There are few ways how you could tag the responses depending on how you are collecting data (e.g. sending surveys by mail, printing survey in newspaper or printing the survey daily).
Most straight-forward way is to just tag responses after data collection. However, if you have a large pile of document, other options may be better, but you will need to prepare in advance.
Before data collection

In case you want to tag in advance you actually print the copies.
Works best if you use unique page marking.
Not suitable for web surveys.

After data collection

You have responses collected and scanned, now you need to upload them and tag in different groups.
If you are not using unique page marking or your survey is 1 page long this method may be most suitable.
Also collecting data with web surveys.
Before
Set Batch number when generating copies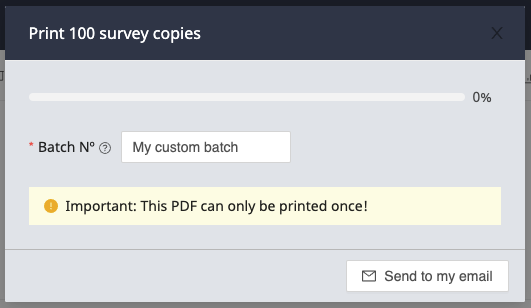 If you use unique page marking, every time you generate a file for printing you can set the Batch number. After uploading the scanned copies, you will know what was the batch number assigned before printing.
Have different survey versions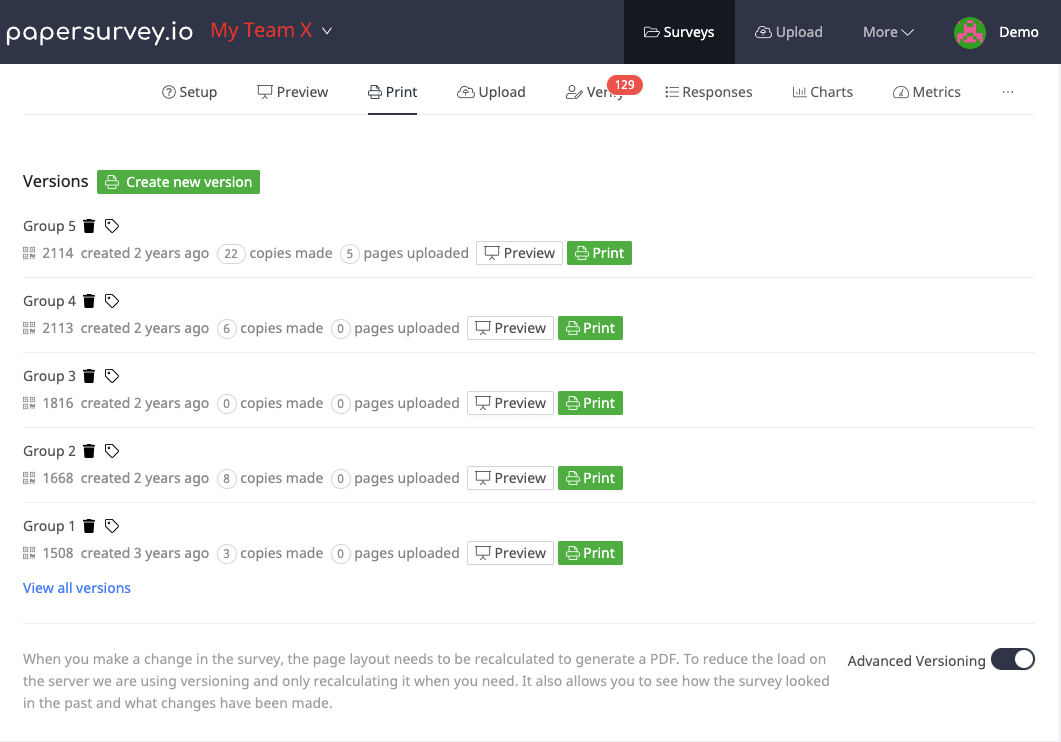 This method is good if you have a relatively small number of tags. For each group you can generate a new "Survey version" on the Print tab. Please activate "Advanced Versioning" to be able to rename the survey versions.
With Prefill Forms (Advanced)
Prefill forms allow for even more advanced tagging. You may generate the copies for print and include multiple data points about the respondent. This feature is more complicated and if you only need very simple tagging functionality, other methods may suit best.
After
There are few ways how you could upload the responses, you can customize the tag in with most common upload methods as indicated below.
Web Upload
Once you have the data scanned and ready to upload, you can enter the tag and continue.
Email
If you are upload scanned documents over the email, you can set the tag with +plus notation. e.g. if your assigned email address is demo@upload.papersurvey.io you may set the tag by adding +mytag before @ character: demo+mytag@upload.papersurvey.io.
Web surveys
In case you are also using web surveys to collect data, you may set the tag in the url. e.g.
Other methods
Unfortunately, as of now tag customization is not possible when uploading via Zapier, API, Android mobile app, default tags will be assigned (zapier, api, mobile_app accordingly)
Updating tags

In case you would like to update tag for an entry, you can bulk-select the entries and update the tag for the selected entries as in the image above.
---
Get Started with PaperSurvey.io Software
Start your 14-day free trial now, no credit card required.