Help Center
Topic: Printing
---
Booklet/brochure surveys
Help Center
Printing
•
Last updated: 28 May, 2020
The following article explains how you can print your paper questionnaire with a booklet/brochure layout for your surveys created using papersurvey.io.
What is the booklet/brochure?
Instead of simply providing your respondents a plain A4 format page to fill in responses, you may fold it in half. On both sides of the fold, respondent will have questions to answer.
You can print the questionnaire on A3 or A4 format page. If you print it on A4 format page, the survey will be downscaled to A5 format and during recognition it will be automatically upscaled to the correct size.
If you plan to print on A3 page, please make sure you have access to A3 scanner as well or you will need to cut the page in half before loading onto A4 scanner.
How to create a booklet survey with PaperSurvey.io?
To create a booklet survey using PaperSurvey.io you just need to create a regular survey and use page breaks to separate different pages of the questionnaire.
Once you have downloaded a printable PDF file, in your printer settings set 'Pages per sheet' to 2 - this will divide the page into two horizontal sections to make a booklet. Each printed page then should be folded in half. Multiple page booklets should be stapled and unstapled before scanning.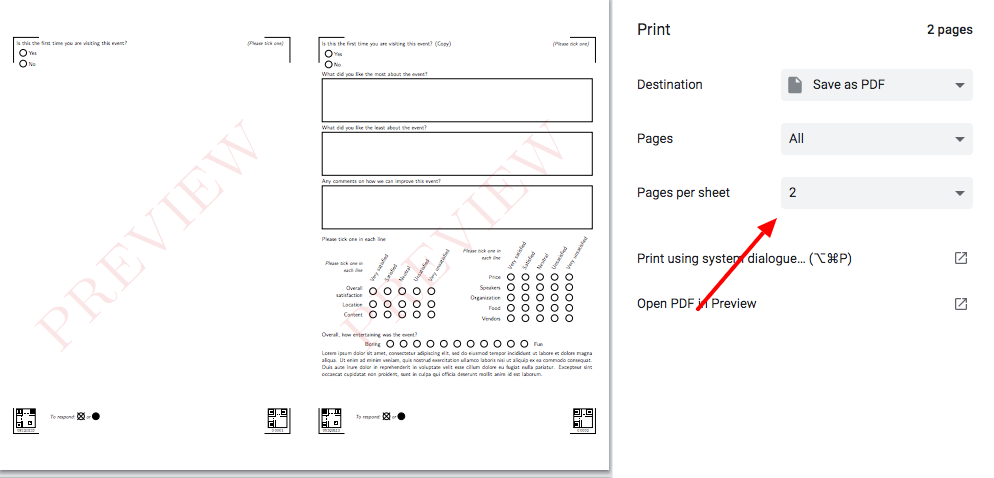 How to scan and upload the booklet survey to PaperSurvey.io?
Uploading of the booklet surveys are slightly different from the regular paper surveys. Since our software can only read one page at the time, the booklet survey pages must be split in half before processing. You can do the splitting by yourself (e.g. cut it with scissors or cut it digitally after scanning) or use built-in auto-cropping capabilities in papersurvey.io
There are few ways how you can instruct papersurvey.io to cut the page in half:
Enable a 'Booklet scanning' option in general settings. This will automatically crop all your uploads in half for all surveys.
Insert [a5] in the filename. This will only crop the files that have [a5] in the filename.
Notice: only PDF files can be cropped in half!

---
Get Started with PaperSurvey.io Software
Start your 14-day free trial now, no credit card required.