Help Center
Topic: Web surveys
---
Creating a Web Survey
Help Center
Web surveys
•
Last updated: 11 October, 2023
To transform your paper survey into a web survey, follow these simple steps:
Set up the paper version of your survey as you normally would.
Access the survey settings.
Activate the "Web Surveys" option.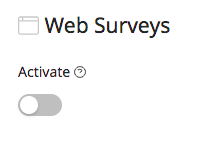 Once you've completed these steps, a unique link to your web survey will be generated. You can share this link with your participants, making it easy for them to access and complete the survey online. For example, your web survey link may look like this: papersurvey.io/s/30pk2m.
---
Get Started with PaperSurvey.io Software
Start your 14-day free trial now, no credit card required.